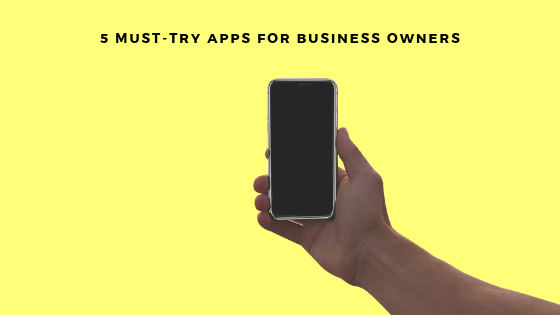 5 Must Try Apps for Business Owners
Owning your own business means you have to get creative to manage your time. With the right apps, you can seriously cut down on the boring and tedious tasks every business owner has to deal with, and focus on the issues that require more brain power instead.
Instead of burning yourself out over every detail of your company, check out this list of apps that can make your life a whole lot easier.
Cal
If you run a business and also somehow manage to have a personal life, you probably have multiple calendars going at any given time. Cal could be your lifeline.

Cal by Any.do helps organize all your work and home calendar events, reminders, tasks and grocery lists in one place.
Expensify
Expensify is an app you didn't know you didn't know you needed. It easily tracks and manages your business expenses on the go.

Employees can snap pictures of their cab home or kitchen run receipt, select the type the expense it's associated with, and submit it directly to you for approval and reimbursement ASAP.
SignEasy
This app lives up to it's name. SignEasy is an easy, convenient way to sign documents on your iPhone and iPad, and as legally binding as using a pen.

Sign and return documents emailed to you in seconds, from any device.

RescueTime
It's hard to stay focused with never ending tasks and all of the distractions of the internet. RescueTime helps you to fight back against distractions by tracking the time you're spending on different applications and websites.
RescueTime offers up tools to block certain distracting websites and help you understand daily habits so you can focus and get stuff done.
Deliveries
Amazon Prime and other services like it makes purchasing what you need for your business easier, but tracking packages can become tedious the more you order. This app is a package tracker that helps you keep track of all your packages so you always know when they're going to arrive.
Deliveries supports dozens of services, including UPS, FedEx , Amazon, Apple and more.
---

Many Point of Sale solutions claim to give you all you need, but Nōwn really delivers. Nōwn brings together all of the tools you need into one place. A cloud-based POS, rewards program, mobile orders, gift cards, digital order display and customer recognition technology – all in one.