Now more than ever, having the right online channels is critical to continue serving your customers.
The Nōwn Booster package gives you the tools you need to build your online brand — fully integrated into your POS.
Looking for an all-in-one solution
to fit your business?
If you need an ordering solution soon, but are still looking for the tools to help manage your day-to-day operations. Nōwn can take care of that.
Searching for a solution
to help your business stand out?
If you're looking to minimize your losses and keep your customers coming back,  Nōwn has exactly what you need.
Want to upgrade without disrupting
in-house operations?
If you're looking to upgrade but are worried about disturbing your existing infrastructure, Nōwn can help.
Take control over all your ordering channels
Make online ordering as easy for your staff as you'll be making it for your customers. Gain insights on in-house and off-premise orders — side by side, from one dashboard.
THIRD PARTY DELIVERY APP INTEGRATION
No need to have a tablet for every delivery platform — all of your online orders are sent directly to your POS

See all orders come through one screen whether from mobile, web or third-party

Maximize efficiency by automatically throttling orders during rushes
DELIVERY DISPATCH APP
Keep your staff employed by turning them into your new delivery team

Get access to dispatching and real-time tracking of your drivers

Drivers can update status and proof of delivery through the app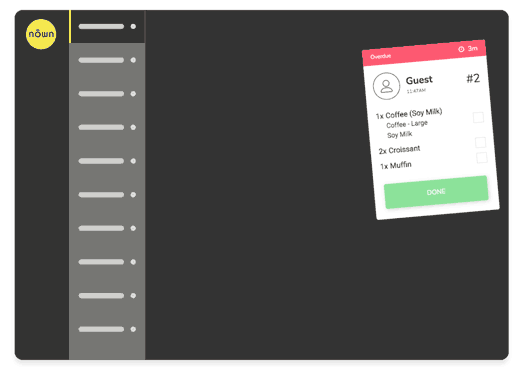 "43% of restaurant professionals said they believe third-party apps—many of which withhold data— interfere with the direct relationship between a restaurant and its customers" – HospitalityTech
"Restaurants that manage their own delivery generate $185 more per customer." – Statistia
Be more connected to your customers than ever before
When your customers are offered seamless digital experiences and kept up to date with personalized messaging, they'll spend more and keep coming back.
MARKETING AUTOMATION
Reach your customers without sacrificing personal touch
Leverage customer data to create personalized campaigns based on past purchases
Target customers real-time with offers via email, SMS, or push notifications
DIGITAL GIFT CARDS
Give customers the ability to buy, redeem and refill digital cards from your website

Funds are directly transferred to your bank with no transaction fees

With our hands-free payment solution, customers never have to search for their wallet or phone to pay for a meal with their cards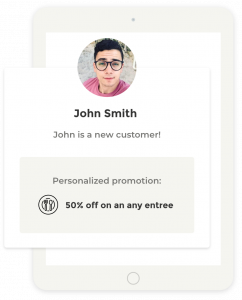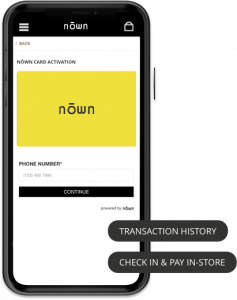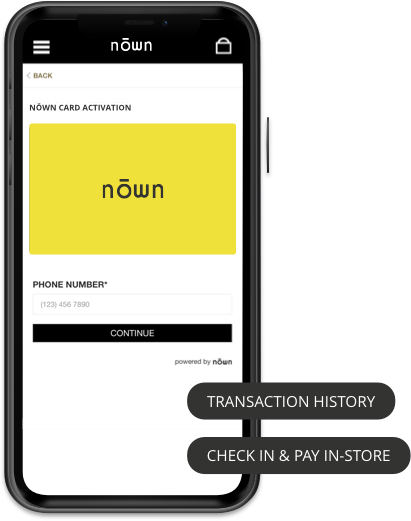 "70% of consumers say they'd rather order directly from a restaurant" – HospitalityTech
"45% of consumers say that offering mobile ordering and loyalty programs would encourage them to order more often, which generates higher revenues " – Nation's Restaurant News
Offer your customers a seamless ordering experience
Navigating clunky navigation can turn away customers to your competitors. Unifying your online channels with Nōwn will make ordering quick and straightforward as possible for your customers — no matter which device they use.
MOBILE ORDERS
Manage mobile orders, kitchen tickets, and payments with a single solution

Guarantee precise pickup times with order tracking

Offer true contactless transactions and let customers pay hands-free with the app
ONLINE ORDERING
Offer your customers the ability to place and track orders directly on your website

Provide the same great experience on desktop, tablet and mobile

All the revenue you make through your site is 100% yours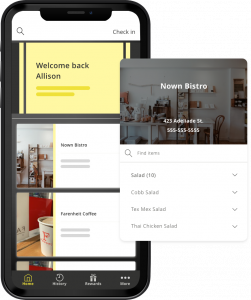 "Restaurants that utilize an online-ordering system are able to grow their delivery revenue 30% more than those who do not" – Business Insider
"65% of Americans abandon digital takeout orders if they have poor customer experience, and 55 percent of US adults want an easier online ordering system."
| | | | |
| --- | --- | --- | --- |
| Unlimited Stations | | Cloud-based POS | |
| Nōwn Mobile App | | Customer Recognition | |
| No Transaction Fees | | Loyalty | |
| Menu Management | | 1 Free Integration | |
| Mobile Pre-Order | | 3rd Party Delivery Integrations | |
| Delivery Dispatch App | | Real Time Reports | |
| Unlimited Users | | Role Access | |
| Shift Management | | Employee Management | |
| Enhanced Reports | | Management App (Nōwn Dash) | |
| Digital Gift Cards | | Marketing Automation | |
| | | | |
| --- | --- | --- | --- |
| Unlimited Stations | | Cloud-based POS | |
| Nōwn Mobile App | | Customer Recognition | |
| No Transaction Fees | | Loyalty | |
| Menu Management | | 1 Free Integration | |
| Mobile Pre-Order | | 3rd Party Integrations | |
| Delivery Dispatch App | | Real Time Reports | |
| Unlimited Users | | Role Access | |
| Shift Management | | Employee Management | |
| Enhanced Reports | | Management App (Nōwn Dash) | |
| Digital Gift Cards | | Marketing Automation | |